Multicultural Flavors
Starting our Malaysian trip in Borneo definitely set us up for an unbalanced expectation of the country.
I had wrongly assumed Malaysia as a country of wilderness, and I was dumbfounded to get hit with the history and culture (as well as the crowds) that the peninsula delivered.
At first, we felt a little shock and displaced visiting Melacca, as the city reminded me of an enlarged version of San Francisco's Fisherman's wharf. It didn't help that we also got there on Sunday, when it seems that half the population of Kuala Lampur is taking a weekend vacation.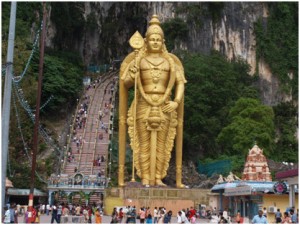 But getting past the crowds, we found a fantastic character of the city. From the weird & tasty foods in Chinatown to the eighty year old men doing choreographed Karaoke while wearing an Elvis wig, these people definitely loved life and their city.
One of the highlights was a colonial house named "villa sentosa" where a gentleman whose father, a British trained officer had build it almost 100 years ago, and it had stayed in its original form, despite rampant development in its surroundings.
We gladly had a chance to spend the new year with friends, staying with our friend Bijan who'd recently moved to KL for work along with his family. On the surface, KL had the same chaos we've become accustomed to in the larger Asian cities, but as we sat at a few coffee shops and observed, there was definitely an orchestration to this madness which I was happy to be a witness to.
The teas came out together even though it seems like no-one has take your order, you always find your way even thought the roads divide in forks every few minutes just to give you a challenge, and the city had a partying time, even though most of the people don't drink for new years.
The harmony of the Chinese, Indian, and Malay cultures always contributes to the uniqueness of the country. Although we've seen mixed societies quite a lot in the west and other parts of our travel, this was the closest harmony and democracy of races and religions I'd witnessed. In the west, it seems as though everyone partially to suppress their cultural identity in order to contribute to your portion of what American society might be. However, the strength of the Chinese and Indian cultures seem to be just as important as the Malay culture in forming what this country is about.
After KL, we took a roadtrip to the Cameron Highlands along with Bijan. It was great to be pimpin in our travels with a car and a friend all at once!
The trip was a lot of fun, despite the rain that plagued the area and didn't allow us to do any hiking as we'd intended. We did however get to visit a beautiful strawberry farm and a tea plantation , and learn the true origins of the word ummph ( as you may be able to see on my new side blog of weird things,  seen in Asia).