If you want to Get Fat, Come to Penang
As you may know, we'd taken a break from writing the blog for a while, partially it was a return to Thailand, not having as many things shock us in an interesting way, and partially as a result of being a little too relaxed for a few weeks.  But all that has changed since continuing our trip to Cambodia and Vietnam which we'll share with you soon.
But before jumping into the Indochina,  there's a little bit I wrote about our visit to the last city in Malaysia, Penang, which from eyes slightly removed by a few weeks, I see with even more of an appreciation:
"If you want to Get fat, Come to Penang"
That was perhaps the most appropriate, not to mention funniest quote I heard, coming from a local businessman who was literally eating his own words as he told us while having his noodles and bloodcake soup (which tastes oddly of tofu here) at our shared lunch table.
We continued the trip North to Penang( or more properly, Georgetown) , which delivered more than we expected.  Our first reaction was a shock and awe at the size of the city (as well as the efficiency of the ferry that took us there). No wonder, since the Ferry had be running since the 1920's.  Being the last of the Straits settlements in our visit, Penang packed a punch in terms of culture (and glorious food) that I hadn't expected.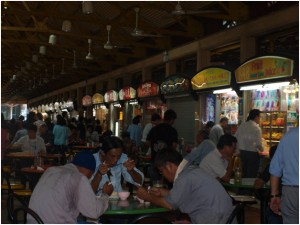 Penang is supposedly the hawker centre of Malaysia , and there was no shortage of the food to be had in any corner of the city.  There were probably more than 20 food courts, each with Indian, Chinese, Nyoyan, Malays, Thai, and for some reason, western foods to be found.   It was to a point when we actually had to start planning and timing our meals to be able to get to sample enough of what the city had to offer (and also spend a lot of time thinking about future runs and gym sessions cast in sight to pay for our sins)
There is always a lot of culture and history around us, but often lost in the new developments, chain restaurants, or the car and motorcycle smog that has take over the city.  Everyone is entitled to their progress, so it would be hypocritical to see anything wrong with the desire to grow. But Penang goes out of it's way to allow you to connect with it's glorious past.
The culture and history in Georgetown (the capital of Penang) are also orchestrated in a way that I adore.  There aren't huge museums to spend half your days.  Instead, the city has a vibe of a living functioning museums.  Many streets have signs explaining their historical significance ( normally within a stone's throw of someone cooking up a tasty Roti Canai, or the city's famous fettuccine like wide noodles), and there are many houses of the historically significant members of Georgetown's society that are open for visitors.
After spending a few too many nights at beaches in the few weeks, the history and diverse culture which wraps Malaysia like a ball of excitement, ready to explode holds even more sentiment and appreciation in our heart.