World Class Debauchery and New Age Repentance: Different sides of Bali
Indonesia is probably a country of largest contrasts we've even seen. After our visit for almost a month, we knew that we've barely began to scratch the surface.
I previously imagined this as India when I thought about the immense and immediate differences among the rich and poor. (I still have images of my visit at 5 years old, when there were homeless living by the gutters of 5 star hotels) But In Indonesia, it's not just a contrast of wealth, but of extreme ideology, culture, and heritage.
From the Islamic cultures of Kalimantan with prayers strong enough to drown out any chance of sleep, to the vast funeral ceremonies of the Toraja in Sulawesi, to the Hindu, (and tourist) cultures of Bali.
Even the tourist clans offer this from all night Australian debauchery, easily spotted on the streets of Kuta with their Bintang(the local beer) wife beaters, to new-age empty nesters and wandering souls sprinkled in Ubud.
My first instinct of Bali, which was the main tourist areas of Kuta and Semiyak was a warning sign that went off in my head. Imagine a larger, more international version of Miami Beach with the same shops, same tourists and attitudes and traffic ten times worse. But as we started to explore and saw the lonely alleys where the sound of the bikes and peoples are replaced with birds, geckos and greenery, I started to see and appreciate the beauty that lies on this contrast and different worlds of southern Bali.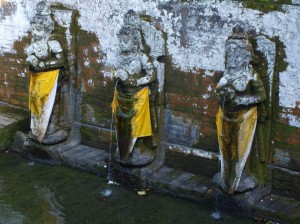 It didn't hurt that our simple shack of a hotel was steps a stone's throw from a beachfront restaurant with great French press coffee (reminding me of how much I miss and appreciate our kitchen back home) and the fastest internet connection I'd seen in Asia so far.
We found it harder to drag ourselves and move to Ubud. The place was magical with endless duck filled rice paddies and beautiful unique Balinese Hindu temples around every corner which come alive during the mornings with sounds of local marimbas and offerings of fresh flowers and rice, and at nights with ceremonies which seem to engulf more people than the town actually seems to contain.
Ubud was also a town of strong complex characters local and international. One of the most interesting men we met, a worldly Italian artist and gentleman named Riccardo Mattina returning to Bali for the third time, spend hours sharing tales of his adventures and affairs around Egypt, California, Key west, Morroco, and countless other places that only belonged in our hot afternoon conversation.
It was inevitable to fall into the groundhog's day symptoms which many people lose themselves to. Regardless, there are only so many visits to temples walks in rice fields, and swims in fresh water pool anyone should take before going soft and joining the expats in opening a hotel or an art gallery. And the town seems to have enough of those already.
Didn't see that many Internet consulting shops around through.